When Bones Break
From the Surgeon General's 2004 Report: "Bone Health: What It Means To You"
(Current as of March 26, 2009)
There is some natural bone loss as women and men age. As we grow older, bones can break or weaken if we don't take steps to keep them strong. The most common breaks in weak bones are in the wrist, spine, and hip.
Broken bones in your spine are painful and very slow to heal.
People with weak bones in their spine gradually lose height and their posture becomes hunched over.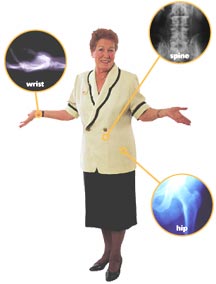 Over time a bent spine can make it hard to walk or even sit up. Broken hips are a very serious problem as we age. They greatly increase the risk of death, especially during the year after they break.
People who break a hip might not recover for months or even years. Because they often cannot care for themselves, they are more likely to have to live in a nursing home.
Tips For Keeping Bones Strong
Get enough calcium and vitamin D in your diet at every age. Calcium is found in foods like milk, leafy green vegetables, and soybeans. Enjoy snacks of yogurt and cheese to increase your calcium. You can also take calcium supplements or eat food specially fortified with calcium.
Get enough vitamin D from your diet, sunshine, or supplements. Your body needs vitamin D to absorb calcium.
Be physically active. Even simple activities like walking and stair climbing will strengthen your bones. Get at least 30 minutes of physical activity a day, even if it's only 10 minutes at a time. (Children should get at least 60 minutes a day.)
Talk with your doctor about medicines you are taking that could weaken bones, like medicine for thyroid problems or arthritis. Also talk about ways to take medicines that are safe for bones. Discuss ways to protect bones while treating other problems.
Maintain a healthy weight. Being underweight raises the risk of fracture and bone loss.
Don't smoke. Smoking can reduce bone mass and increase your risks