Childhood Obesity - What The Research Tells Us
Obesity Rates Are Increasing


The rapid increase in overweight among children and adolescents has generated widespread concern. Between 1980 and 2004, the prevalence of overweight tripled among children and adolescents ages 6 to 19 years. When those of both sexes between 2 and 19 years are considered, more than one-third (33.6%) are either at risk for overweight or are overweight and 17.1% are overweight. In one study, during the 2003-4 and 2004-5 school years, 38% of Arkansas students were found to be overweight or at risk for overweight.


Rates For Boys And Girls Are Different


Boys are becoming overweight at a greater rate than girls. The rate of increase of overweight in boys rose at a greater pace than that for girls. For the years 2003-2004, 34.8% of boys ages 2 to 19 were at risk for overweight or were overweight, compared with 28.9% in 1999-2000. Among girls ages 2 to 19 during the same time period, 32.4% were at risk for overweight or were overweight, up from 27.4% in the earlier survey.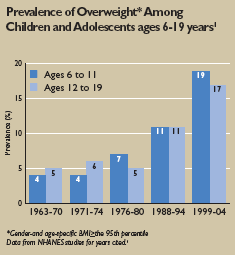 Some Groups Of Children Are More Affected By Obesity Than Others


In the most recent data, Mexican-American male children and adolescents (22.0%) were significantly more overweight than their non-Hispanic white (17.8%) and non-Hispanic black (16.4%) male counterparts. Mexican-American (16.2%) and non-Hispanic black (23.8%) female children and adolescents were significantly more likely to be overweight than non-Hispanic white female children and adolescents (14.8%). Adolescents were more likely to be overweight than children.


Where Did the Obesity Problem Come From?
High-calorie foods have become available at school. Kids consume more soda and other sugar-sweetened beverages, and less milk, both at school and away from it.
Food, beverage, and snack products are heavily advertised to children.
Dual-career or single-parent working families may have increased demand for food away from home or for prepared foods.
Energy expenditure has been reduced. Fewer students walk or bike to school.
More time is spent in sedentary activities, such as viewing television, using computers, and playing video games.
Adult Overweight


Overweight adolescents have a 70% chance of becoming overweight or obese adults. This increases to 80% if one parent (or more) is overweight or obese. Overweight or obese adults are at risk for a number of health problems, including heart disease, type 2 diabetes, high blood pressure, and some forms of cancer.
Reprinted with permission from the web site of the The Center for Health and Health Care in Schools