Exercises For Easier Delivery
Kegel exercises, or pelvic floor exercises, are a simple technique for toning the muscles in the vaginal and perineal area, strengthening them in preparation for delivery. Some people believe that doing Kegels allows the vagina to regain its previous shape and muscle tone more quickly after birth. Kegels also help build the ischiocavernosus muscles surrounding the vagina and the levator ani muscles around the rectum and may help prevent urinary and bowel incontinence associated with pregnancy.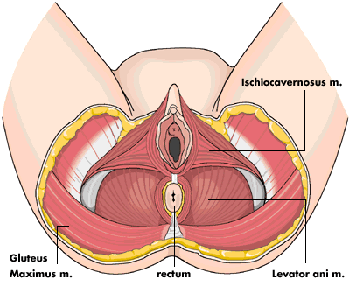 Kegel exercises consist of pulling in and tensing the muscles around your vagina and anus, as if you were stopping the flow of urine. Hold this position as long as you can without straining. Relax and repeat 25 times or more each day.
Kegels are easiest to do sitting down, but once you feel more comfortable doing them, you can perform this exercise standing or walking. You should start this exercise as soon as you can after delivery to help heal and strengthen the affected muscles.
Another pelvic exercise, the pelvic tilt, can help strengthen the abdominal and back muscles and prevent backache during pregnancy and after delivery. This exercise can be done when kneeling on hands and knees, with the back flexed but not arched. Buttocks are pulled under and forward, and the position is held for five seconds. You can also do this exercise in a standing position by rolling the hips and buttocks forward as if trying to lift the fetus up toward the chest and then holding for five seconds. You should do pelvic tilts three to five times daily.